Deaer Paster,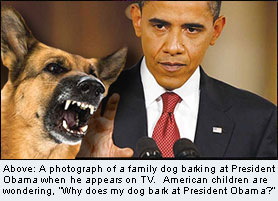 My dog bark at Presidant Obama when he come on TV! Momma keepts CNNED all dayn long and Scruffy HOWLS AN BARACKS LIKE A COON HOUND WENT TO FETCH THAT OBAMA ON OURN TV!
Theys han a picturen of OBAMA TO RAN A long videos and Scruffy barked at the whole time durn News an OBAMA GONE ON ABUOUT SOMES CRAP LODE OF BULLS I DONE UNREDSTEAD!!! FAYGGIT! They comp He wont SHATUPS Pastror! Pappy thrwon HES BEER CAINS ON THE DOG! DOWN BAD DOG! NO! Nope! Ainst hapenned! THANKS GOD!!
HAYYYELLP! WHY DOSE MY DOG BARKS AT'S OBMA??
Benny Cooper
Freehold, Iowa Home School System
Age 17, Grade 6
1527 Lord's Candle Mountain Rd.
Dear Benny,
Thank you for your letter. Sounds like your father might have some drinking issues, but I won't address those here. What you've asked is a mighty important question, and the answer will show you how the Lord God even uses stuff He created without a soul, like dogs, to show us how deeply He cares about important folks like you and me.
The reason dogs bark is to warn us about potential danger and to protect us from harm. Your dog is barking at President Obama because he senses danger, and wants to protect your family from any potential threat.
Benny, you might be too young to understand this - but when your dog, Scruffy barks at President Obama, he doesn't know that Obama wants to take your daddy's job away! How can your dog know that? He's just a dog! Little Scruffy doesn't know that Obama wants to take the Bible out of your house and replace it with a Koran either! Nor can Scruffy know that Obama is going to send Illegal Mexicans (as if there are any other kind) to live in your basement and force your mother to feed and clothe them while you starve to death! All Scruffy knows is that President Obama is a very dangerous man, and your family needs to be protected from him.
Have you ever heard a dog bark at a garbage man, or a janitor? Why yes, you have! Do you know why that is? Well, it is because God created canines to have a natural aversion to people who don't have lilly white skin!
Dogs don't trust colored folks in general! Why else would they bark at them? Unlike our forefathers, George Washington and Thomas Jefferson who listened carefully to the barks of dogs! People today ignore the howls and yelps of our hairy soulless friends who want to protect us from harm! We need to get back to listening to the barks of dogs! Praise God!
Benny, it is important to note that there are genetically engineered dogs running around out there. They are called "Pit Bulls." This sacrilegious breed of canine is designed and trained to mock God's natural order. Pit Bulls are called such because these beasts are created in the "Pit" of Hell for the sole purpose of making "Bull" crap out of God's Will for dogs! A-men? Black people love Pit Bulls because they are the only kind of dogs in the whole world that bark at white people! That sort of behaivor is completely unnatural and absolutely counter to God's Holy wishes.
Back to my point though, Benny. Normal dogs like Scruffy, bark when they see President Obama because they are warning us through their barks that we need to take back America and make it into the sort of country our Founding Fathers envisioned!
Your precious little dog, Scruffy is going to keep barking his furry little head off until you get off your butt and do something about it! An entire Sunday School class could be dedicated to this subject. But I only have a limited amount of space here to tell you what you need to do. Begin by asking yourself if you've ever seen a dog smile. Have you? They just curl up their lips in a knowing manner when they are presented with the most basic truth! Try putting a great big bowl of leftover slop in front of the TV and tell your momma to turn on Fox News instead of CNN. You can even squat down and squeeze a big stinky old poopy out of your hiney into the bowl if you don't have any leftovers. Scruffy might look up and growl when he sees President Obama appear - but it won't be as often. As a tip - on that channel they spend 95% of the time talking about Obama, but they don't show his picture as much. Scruffy will smile when you pet his hairy head - push it down into the bowl and say, "shhh!" He'll get his ornery snout down in there and eat whatever you feed him. You all can all sit down together as a family in peace for awhile. If he runs out of slop, ask your Momma or Daddy to squat down there and squeeze one out for him. Just keep feeding him crap and he'll be happy - as will your whole family.
God Bless You Benny Cooper,
Your Friend in the Name of the Lord, Jesus Christ,
Pastor Deacon Fred
landoverbaptist.org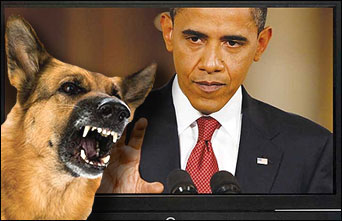 Please Note: This article is placed here by legal obligation under our existing, but soon to be terminated contract with Pastor Deacon Fred.