Click Here to Return to the "Reader Mail" Home Page to Browse More Months!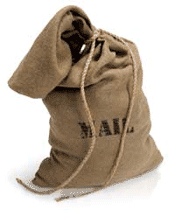 Letters To Landover:
Pastor's Mailbag!
MAIL FROM JULY 2009
A Small Sample of E-mails received.
Unedited and in original form
WICCAN HOLDING CELLS?!?! You cant be serious. You DO realize that imprisoning someone against their free will IS ILLEGAL correct!!? AS a Wiccan myself, and a FORMER CHRISTIAN, i find it appalling that a faith that is supposed to "love thy neighbor" would/could possibly even THINK of advertising something like this. Its despicable and I hope you realize that God is NOT going to reward you for holding people against their will because of their RELIGION...its NOT your job and this country is based on FREE WILL FOR RELIGION AND FREE SPEECH. You Sir, are a pompous self-righteous ASS for putting this on your site. Its grotesque and I hope that you get prosecuted to the fullest extent of the law for advertising such an IMHUMANE thing. You SERIOUSLY cant think that this is the RIGHT thing to do?? All you christians are all alike. Get off your high horse.
I am a witch. I do not worship Satan; I am not interested in Satan. Satan was invented by the Christians. Satanism is a form of Christianity. I am not a Christian. I don't go to church on Sunday. Jesus is NOT my savior. He was simply a holy man who lived 2,000 years ago. I am not afraid of going to Hell because I don't believe in Hell any more than I believe in Satan. I believe in reincarnation; that I will come back to this world or another and live out another life. I am not evil. Telling people I am a "good witch" or asking me if I am a good witch implies that there are evil witches. There are evil people in the world, and there are people who chose to work with the forces of nature in a way that harms others; those people are NOT witches. The central law of being a witch is: "if it harms none, do as you will." Please don't ask me about sacrificing cats or desecrating churches. I love my cats. And I don't go into churches or synagogues unless a friend from that religion invites me to some special occasion. And if I DO enter a church, I am not struck by lightning. And if a Christian or a Jew or a Buddhist came to a pagan ritual, our gods would not strike them dead either. Isn't that something to think about?
Wearing a pentacle is no different than wearing a cross, crucifix, or Star of David. If you want me to take off the symbol of MY religion (and Wicca is a religion, protected by the same First Amendment rights as other religions) because it's offensive, you need to make everyone of every religion do that. The five points of the star signify the four elements of Earth, Air, Fire & Water, and the fifth point is Spirit; encircled by the World. How that can offend anyone boggles my little pagan mind. An image of a tortured, dying man is more offensive, yet thousands of people openly wear crucifixes every day. Also, don't ask me if I'm in a "coven" in that half-horrified, half-fascinated tone of voice. If I want to talk about my coven, I will bring it up. If I am a solitary practitioner, I have no coven to discuss. In any case, our rituals have candles, food, drink, poetry, dancing...yes, there is a knife but it only cuts the air, not anyone's flesh. I don't drink blood. I am not some kind of vampire. I wear black because it keeps negativity away and because it looks better on me than orange and purple polka dots.
If you want to ask me something related to MY religion, ask me when the next full moon is. Or the next blue moon. Or what a blue moon IS. Ask me about herbs. Crystals. Healing. Even ask me to make you a love potion. But I don't cast spells on other people and I won't cast a spell on you to make you prettier, thinner, more desirable. And I won't cast a spell on your quarry to make him/her love you. Trust me, you don't want that, you don't want the karma that involves, and neither do I! That's a form of manipulation, taking away someone's power, infringing on their free will. Not nice at all. And I also won't cast a binding spell to make someone STOP doing something to you. Spell work is about co-creation.
A witch works with universal energy, with the gods, to tilt the engine of probability somewhat. Need money? Don't try to ensorcel your boss to give you a raise. Simply ask the universe to increase the flow of abundance in your direction. That infringes on NO ONE's free will. One last thing: giving me a book about the Burning Times is like giving a book on the Holocaust to a Jewish person. It's not funny and is rude. Yes, I do go to Salem, but not because any of those poor executed people were witches (I think the jury is still out on some of them), but because there's cool pagan shops there. If there were cool pagan shops in a town called East Cowflop, I'd go there.
Please don't try to make me ashamed of who I worship and what I am. Please don't try to convert me or "save" me. Don't throw holy water on me. Don't leave little pamphlets on my desk or windshield. I don't need to be saved. Witches are proud of the fact that we don't recruit people to become witches. We simply ARE, and those around us see how we think, how we act, and our inner peace, and only when someone says "how do I become a witch?" do we take them into the fold with us. I will NEVER leave a religious tract with anyone. I don't have one, unless you count this letter. I am not asking you to convert. I am only asking you to understand. If you don't want to understand, just leave me alone.
Sierra Champion
---
You are a bunch of sick evil fucks! You will have to answer for the vile evil crap you spew one day!!!

Matthew P. Muehl
---
You should be ashamed of your whole religion. You can't prevent someone from being gay. That would be like trying to prevent someone from being mentally retarded or being born with some other defect.

Usually I try to be the better person and respect others opinions but I just can't do it anymore. There are so many stupid anti-gay, jesus loving, god loving freaks out there that want to take over the world, that I wonder what the world has come to. What America has come to.

America is the land of the free, supposedly non-persecuted people of the world, but know I am starting to question that. If you believe that by not letting a little boy colour with rainbow coloured crayons he will not "go gay", then you are seriously mistaken because news flash! he is already gay! He has been gay from ever since he was in his mothers womb. I suggest that you get your snotty noses out of the stupid useless bible, do a little factual reading and come into the 21st century.

GAY PRIDE! GAY PRIDE! GAY PRIDE! GAY PRIDE! GAY PRIDE! GAY PRIDE! GAY PRIDE! GAY PRIDE! GAY PRIDE! GAY PRIDE! GAY PRIDE! GAY PRIDE! GAY PRIDE! GAY PRIDE! GAY PRIDE! GAY PRIDE! GAY PRIDE! GAY PRIDE! GAY PRIDE! GAY PRIDE! GAY PRIDE! GAY PRIDE! GAY PRIDE! GAY PRIDE! GAY PRIDE! GAY PRIDE! GAY PRIDE! GAY PRIDE! GAY PRIDE! GAY PRIDE! GAY PRIDE! GAY PRIDE! GAY PRIDE! GAY PRIDE! GAY PRIDE! GAY PRIDE! GAY PRIDE! GAY PRIDE! GAY PRIDE! GAY PRIDE! GAY PRIDE! GAY PRIDE! GAY PRIDE! GAY PRIDE! GAY PRIDE! GAY PRIDE! GAY PRIDE! GAY PRIDE! GAY PRIDE! GAY PRIDE! GAY PRIDE! GAY PRIDE! GAY PRIDE! GAY PRIDE! GAY PRIDE! GAY PRIDE! GAY PRIDE! GAY PRIDE! GAY PRIDE! GAY PRIDE!

With all the love in the world for gay, lesbian, bisexual, transgender, and all other church persecuted people out there, and none at all to you,

A young, self-proclaimed atheist girl.

Natalie E
---

I just wanted to thank you so much for telling me how I can prevent my toddler from becoming a homo. I never knew that flip flops were tools of the devil and I have begun to only let my child play with black and white crayons.

YOU GUYS ARE FUCKING IDIOTS. God hates you.

Anthony Di Meglio
---

Hi my name is Amanda Heapes, my sons name is Liam – my email [excised]@voice.net.au. I am concerned about putting my son on this game – can you please give me your suggestions for rules I should give him to follow if we allow him to go ahead,

Is there any way you could follow his progress, please

Warm regards,

Amanda Liam Heapes
---
Just to let you know I have read your little artical bout spotting a wiccan and to be honest you are mixing your facts the children running around wearing stupid white make up and black clothes are most likely not wiccans/pagan, they are the children who like to call thier selfs gothic and no the are not one in the same. true wiccans do not do harm to any animal or people the rule of 3 fold what you do on to others is done on to you x3. we also do infact belive in god we just have more than one and no its not satan. blood sacrafices and such not is more on the voodoo and black witch craft side as you would say us witches know better not to do suck foolishness. and with any religion you can't have good with out evil that is just how the world works. also it is not in good christian behavior to judge or slander some one elses religion just to please your self we are all lambs of god there for there is hope for all.

Thank you for your time
A true wiccan/pagan
A Edwards
---

You and your website are fucked in the head you crazy, hipocritt, satan fucking assholes. You are no better than the crust that builds up on my dick after having sex with my live in girlfriend. You and your entire cult members will burn in hell. Fuck your mothers. I would love to hear what you have to say but the lies and bullshit you preach will not change anything.

Ryan Weaver
---

As a parent, I would urge my child to talk to our spiritual leader in a time of losing "scruffy". If my pastor responded to him this way, I am not sure that I would ever step foot in my NAB church again. You do not tell an 8yr. old child that their dog, their furry "brother", will spend an eternity in Hell with the Chinese ripping them to shreds and eating him. Are you kidding me? The Bible does not give us an absolute answer on the afterlife of an animal as it does a human being. You cannot ensure that the majority of people in Hell will be Chinese, either. I pray for this child to get over the trauma that you probably caused by your "counsel" and I pray for you and your church that doesn't want the "unsaved".

Racerjakesmom
---

you are one twisted son of a bitch !! you should start a rock band called TWISTED SCRIPTURE and you should be the lead singer ...wow ive seen some crazy shit in my life but you fred take the fuckin cake !!!. please do not send me anything just die and go to hell ok thank you

Ben Santine
---
Ever heard of evil surmising, something the newpapers do so well? Something that started with Satan at the beginning So if your so sure Micheal Jackson is in hell and what he has done, be careful for your own soul Are your children really safe?

Apostate protestatism has mirrored Romanism and projects its teachings and carries its objectionable spirit

Brue Howd
---
Thank you for your newsletter!! when do you have gun camp?

hasnt michael jackson given much to charity?

ther are no righteous only one and that is Jesus Christ. Let him who is without sin cast the first stone.

John S
---
I just read the comment to timmy about whether pets go to heaven and it is the sickest cruelest thing I ever read, you are an asshole and definetly not a christian

Leslie Mariano
---

---


The Landover Baptist Church® is not intended for readers under 18 years of age.
About landoverbaptist.com/.org | Advertising information | Help/Feedback
Join Us | Terms of Service | Plan Of Salvation | News Archives | Read The Mail We Get
A Sneak Peek Inside Our Book: Welcome to Jesusland!