Click Here to Return to the "Reader Mail" Home Page to Browse Even More!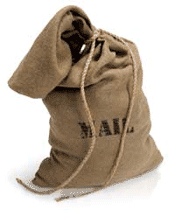 Letters To Landover:
Pastor Opens His Mailbag!
READER MAIL SENT TO LANDOVER BAPTIST DURING THE MONTH OF OCTOBER 2009
A Sample of E-mails received. Unedited and in original form
---
Excuse me sir or mame

do you know your going to hell ? for killing the innocent regardless of their religion ? also not all wiccans are over weight but have you looked in the mirror cause you must be satan to give permission to kill people .some childern are wiccan are you going to kill them too?or are you just a prick anyways I am going to make sure your e-mail box becomes filled with Irrate wiccans and I wish you the best.

so blessed it be!

laura cooper

---

It is sickening the way you twist the Word of God to suit YOU and your own agenda and the lies you are spreading.

If you truly believe in God and His word start reading the REAL Bible that condemns hate etc.

Your website is utterly disgraceful and degrading, please stop spreading these lies and scams and stop trying to make money out of these scams.

Ryno Uys
---

Dear Fuckhead

What you said about john kennedy jrs death was stupid. We are all going to die the same way and thats it. We just die and thats life over. At least he enjoyed his life. You believe what a man said 2,000 years ago. He was the son of man according to himself or possiblity a little on the insane side.You believe what king david said too. King david was spoken to by god. This is according to.......... David?? Things are as simple as they seem. Science can explain everything and the joke is finally on you. The kennedys all went to ivy league schools, is it possible that they are smarter than you? and that if there was even a small chance of a god, they would behave. but no, you pack of pack of inbreed retards think you are right, not science but you. George Bush is smart as is the republican party. They use you because they cant appeal to educated and unblind ungodfearing people and then they keep american down and you eat it up cause you thick as shit. The kennedys worked for noble causes while you work for something that isnt even real.  

the world laughs at you  

denis from uk
---

Hello Friends in Landover Baptist Church, You have a Maker. HE formed your heart. Even before time began, your life was in HIS hand. HE knows your name. HE knows your every thought. HE sees each tear that falls and hears you when you call.

You have a Father. He calls you HIS own. He'll never leave you no matter where you go.

Be assured that you are in our prayers every Thursdays.

God Bless you!
Joshua
Plot No. 32 & 33 Sapthagiri Colony, Sainikpuri, Secunderabad 500094 India,

---

Dear Deacon Fred,

The idea that you could answer and 8 year old without any love or understanding befuddles any rational thoughts. In particular, Timothy Galvin (Age 8) Freehold, Iowa had written about his dog and asked whether his pet would go to heaven. You answered animals do not go to heaven simply because we will not need food, which presupposes that animals are only made for food. I find it more disturbing your disregard for Timothy's heavy heart, than your utter contempt for TRUTH.

The WORD does clearly show that ANIMALS ARE IN THE KINGDOM OF HEAVEN.


Isaiah 11:6 (New American Standard Bible)
And the wolf will dwell with the lamb,
And the leopard will lie down with the young goat,
And the calf and the young lion and the fatling together;
And a little boy will lead them.

Best, David Annanders
---

I was researching spanking as an ineffective form of disclipine and came across you wesite. I am wondering if this is real or supposed to be a funny joke.

Theresa Hylton

---

RE: Hell House

Jesus said that the wages of sin is death, not hell.

Sins can occur in thoughts also. There is no level of sin. Christ forgives all sins. The only route to Hell is to deny Christ.

Thinking that you have the right to pass judgment on sin and determine who Christ will allow into heaven and who will go to hell is a sin against God.

Your hell house is the devil, twisting the words of righteousness and furthering hatred of God's most blessed creation, mankind.

For all have sinned and fall short of the glory of God.

Please, read your bible. Find the same heart of Jesus, one of forgiveness and kindness. Not hate and fear mongering.

--

Thank You,
Rita Fae Harris.

---

RE: Your Demonic Web Site - Landover Baptist Church

You are certainly going to take a free ride on the Handcart to Hell. I hope you like eternal torment. You\'ve just fucked up your entire futures for an unworthy reason.

anon

---

I've been thinking...

THAT YOU NEED TO GO DIE, HOW DARE YOU TREAT CHILDREN LIKE THAT!!!!!! IF A BOY IS GOING TO LIVE THEN HE SHOULD BE ALLOWED TO LIVE HIS LIFE IN THAT WAY!! IF YOU EVER TELL SOMEONE TO DO THAT AGAIN I WILL PERSONALLY COME DOWN TO YOUR FUCKING CHURCH AND TEAR YOU ALL NEW ARSEHOLES!

---

You are so fucking retarded. Your information on witchcraft and wiccan is COMPLETELY incorrect! You sound like a bunch of pissed off, scared little boys from the 1800's! No one is taking you seriously because your STUPID. Most wiccans are NOT overweight. Most wiccans are NOT pale. Most wiccans do NOT have piercings. And though I never condone public acts of vandalism, I'm glad that little girl threw a dead cat at you. I bet you deserved it! How DARE YOU talk about killing or burning witches! Your all a bunch of hypocritical murderers and rapists! YOUR THE REASON THIS WORLD SUCKS! I am going to tell everyone I know about you people, tell the whole internet and world about your devilish ways, how you contort the truth for your own benefit, just like your so called 'SATAN'! The truth is, you over-zealous christians are the ones dying. You are outnumbered in a glorious world filled with pagans from all walks of life. YOU, sir, are the aggressor, and must be stopped. I hope you really do believe in you faith, pastor, because you'll beg for your fabled 'hell' after what a witch could do...

The difference is, we have intelligence and pride enough not to lash out at people for no good reason. You're convinced wiccans are after you? HA! I've been a witch MY WHOLE LIFE...never even heard of your fucked up church until now. Which proves how pathetic you are. You'll probably spit some stupid bible line at me or warn all your buddies that I'm out to get you. The reality is, you're all a bunch of fucking losers trying to deal with your inadequacies as males. HOW PATHETIC.

I dare you to burn a real witch...see what happens, jackass.

Heather Witcomb

---

I could barely read through your beliefs. I felt sick. I started to think about people I know in my own life, who's lives are shaky and could use gentle reminders of God's love. It scares me to think of these people running across any of your congregation-your hell and brimstone ways would send them running for the hills. I believe in fearing our God. But I also fully believe a man can be saved all the up to the moment of his death. In the end, it is God who will pass judgment, and He said Himself-He will judge more harshly those who judge others. Jesus said live as he lived and others will follow. Meanwhile, your method seems to be 'screw those who do not believe as we do'. Very sad. But I still will pray for you.
Mary Sullivan
---

---


The Landover Baptist Church® is not intended for readers under 18 years of age.
About landoverbaptist.com/.org | Advertising information | Help/Feedback
Join Us | Terms of Service | Plan Of Salvation | News Archives | Read The Mail We Get
A Sneak Peek Inside Our Book: Welcome to Jesusland!