PRESS RELEASE - August 29, 2010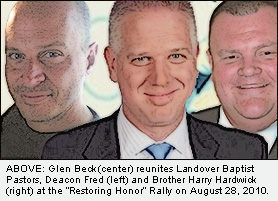 Washington, DC - Everyone who attended Glen Beck's "Restoring Honor" Rally on August 28 has their own personal story to share about how and where the Holy Ghost touched them privately on that historic American day - a day almost as significant to our country as July 4, 1776 and December 7, 1941.
There were two people in particular however, who were touched so deeply, and in such a powerful way by the Spirit of Caucasian Fellowship™ that their experience will affect millions of others for years to come!
Until the day of Glen Beck's Godly rally, Pastor Deacon Fred and Brother Harry Hardwick of the Landover Baptist Church in Freehold Iowa had not spoken a word to one another in over four months. The church had been in the midst of a schism since Pastor Deacon Fred was jailed by the Board of Deacons after a controversial sermon he delivered gave inspiration for a young boy to harm himself. After Pastor's imprisonment, Associate Pastor, Brother Harry Hardwick, who also happened to be a childhood friend of Pastor Deacon Fred, stepped in to assume a church leadership role.
In late June, Pastor Deacon Fred escaped from jail in Fort Madison County Iowa and was hiding in godless and cold Canada with several of his followers. He was captured again by a church Sin Posse (under direction of Brother Hardwick) in the remote mountains of Manitoba. On the journey back to Freehold, using the power of Christ in his heart and the cash in his shoe, Pastor turned his captors against Hardwick and claimed over a thousand of them as his own. They had crossed over the border into America on horseback and were already in North Dakota on their way to bust Deacon Fred's wife Macel and his secretary, Edna Denkins from a Facility where Deacon Fred was led to believe they were placed by Brother Hardwick.
Two days before the Glen Beck rally, Brother Hardwick sent a text message to Pastor Deacon Fred asking for a truce to be held on August 28th in honor of the Glen Beck rally. Brother Hardwick believed that August 28th would forever be known as one of the most important days in American history, and it would be foolish for Pastor and him not to put aside their differences in the Spirit of Caucasian Fellowship™ on this important day.
After Hardwick assured Pastor Deacon Fred that there would be plenty of publicity and media there, and that he would be able to make a grand showing, Deacon Fred agreed to be picked up in a helicopter and taken to the Landover Baptist Airport to fly to the Glen Beck rally with Brother Hardwick.
On the flight to Washington DC, Brother Hardwick and Pastor Deacon Fred prayed together and asked Jesus Christ to revive their souls and send the Holy Spirit swooping across America and into the hearts of Glen Beck and Sarah Palin. They asked Jesus to ask God to ask the Holy Spirit to see if their differences can be put aside in order to allow them to be vessels of His grace and power so they might stand as living testament to His glory.
Pastor Deacon Fred and Brother Hardwick were picked up Regan National Airport by Glen Beck's personal limousine and taken to his suite at the Ritz Carlton in Washington DC. They were able to meet with Glen Beck at his hotel suite for light cocktails and prayer. Pastor Deacon Fred and Brother Hardwick were given full access passes to the "Restoring Honor" rally and were inseparable during the entire event. They shared the Spirit of Caucasian Fellowship™ and secured tithes from conservative elites like Sarah Palin, Rush Limbaugh, Ann Coulter and Matt Drudge to name a few. Mrs. Betty Bowers was a no-show, stating, "I never appear in public without make-up or with Mormons."
After the rally, the two Pastors were absolutely convinced that all of their bickering needed to be put aside so they could re-focus their anointed energy on more important issues like the ones Glen Beck alluded to during his Fundamentalist Christian sermons. "We can't waste any more time!" Pastor told Hardwick. "Since I've been gone, Disney's sinister grip has closed tighter around the necks of America's children! Queers are teaching in our schools, Communists are running our country, and the Moose'limbs want to build a Satanic Mosque in Freehold! We also need to work together to see if we can't get Glen Beck out of the Mormon Cult. We don't want to see all these good folks running around out here in white robes next year! Trading wives and selling magic underwear! A-men?"
Brother Hardwick and Pastor Deacon Fred met for over 6-hours after the rally with the Board of Deacons in their suite at the Ritz Carlton in Washington DC and signed papers re-establishing Pastor Deacon Fred's role as head Pastor and CEO of Landover Baptist Church. In addition, the Board of Deacons returned the lease to Pastor's 200 acre Estate in Leviticus Acres and the rest of his properties, including his Mercedes collection. They also signed papers giving Glen Beck an honorary Doctorate and Pastorship from Landover Baptist University with the stipulation that he would publically renounce his Mormon faith.
Pastor Deacon Fred arrived back in Freehold, Iowa on Sunday, August 29 - as he says, "Just in time for Wicca Hunting Season! Glory!" Upon arriving at his estate, he was reunited with his wife, Macel Smith who had already been tidying up his home. He also was pleased to find that his secretary, Ms Edna Denkins was also on hand to greet him at his office that same evening.
Landover Baptist Church members were overjoyed to see Brother Hardwick and Pastor Deacon Fred exchange a warm embrace on the podium Sunday night. In a fitting "Welcome Home," Brother Hardwick gave up the pulpit for the first time in nearly 4-months to Pastor Deacon Fred. And a rousing sermon was heard by all.