LOCAL FARMING ALERT!
Demon Possessed Chickens!
It seems like the Devil's got a foothold on the month of June as local farmers struggle to earn a living while Satan just sits back and has fun.
Read the Full Story>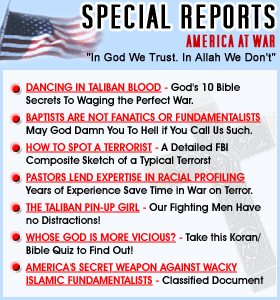 United States Dept. of Faith:
President Asks Jesus For Advice on Israel
No U.S. decision will be made without a cursory review of relevant Bible Prophecies.
Read the Full Story>

National Headlines
Investigators Locate Priest With No Molestation Past
A team of Vatican investigators reported last week that they have located a U.S. priest who has never been accused of molesting parishioners. Father Dick Abstentia of Nonads, Utah has presided over his parish for 37 years with no complaint of sexual abuse. Protestant analysts were quick to note that this may be due to the fact that Abstentia was born without genitals.

Local Headlines
Five Children Die in First Week of Landover Vacation Bible School.
"These youngsters were chock-full of toxic little demons," said Pastor Deacon Fred. "We tried to save them from themselves, but, all in all, they are truly better off dead. I send out my condolences, but remind all parents that, regardless of the circumstance, Vacation Bible School tuition is not refundable."