W.W.J.D. Panties!
Offering Christian ladies protection from pesky penises. Purchase yours today!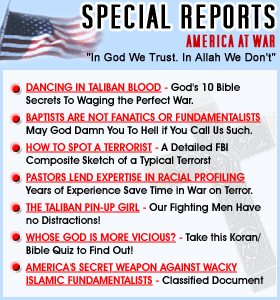 Secret Scriptures!
Do your friends know that God wants to smear dung on their faces? Click Here>

INTERNATIONAL NEWS

Muslims Protest Being Called Violent, By Rioting

"I always knew my brother in Christ, Dr. Jerry Falwell was a man of God," said Pastor Deacon Fred, "One need only look at his investment portfolio, offshore accounts and waistline to know how much he has been blessed. But, until know, I just wasn't aware that he also had the gift of prophecy." Dr. Falwell revealed that the prophet Mohammad was a violent man, and a man of war, during a CBS news broadcast just last week. Falwell implied that the Muslim people in general are violent, because the Koran commands them to be violent. Dr. Falwell was criticized for these godly statements by the secular press. But within days, Muslims fulfilled Dr. Falwell's prophesy by taking to the streets of Bombay to riot, kill, and loot in response to Dr. Falwell's comments. "Now that I know they are so stupid they will do whatever I accuse them of," responded Dr. Falwell, "I have a few more accusations about those Christ-haters up my sleeve that should get them to kill all of each other off by month's end. If that doesn't work, we can go over there in the name of the Prince of Peace, Jesus Christ, and slaughter them, like we did in the glorious Crusades! I feel a victory coming on! Praise!"