UNITED WE STAND:
Americans Battle Witchcraft On Home Front!
Join millions of Baptist Americans on Halloween in a Country-wide Harry Potter Book Burning. The Holy Bible commands us to burn books. Download your free PDF flyer!
Click Here To Download Flyer!>


ATTENTION CHURCH MEMBERS:
Until further notice, assigned pew seating is in effect for all tithing sections of Landover Baptist's main sanctuary. Please find the gas masks conveniently hung in front of your Bibles on each hymnal rack. Pastor will give a brief saftey and fitting demonstration this Sunday. Instructions are also made available here online.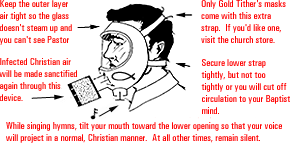 Note: These masks will protect church members against Anthrax, but not the Demonus Maximus or Demonus Vaginus geneses of demons. The masks will also work to prevent infiltration of Small Pox, but not White Diamonds by Elizabeth Taylor.


Clearing The Air On Anthrax
American Christians Tell Abortion Clinics: "Don't Confuse the Anthrax We Send With Stuff Sent By Foreign Religious Fanatics."
"We are very concerned," said Catholic anti-abortion group Lambs of the Lethal Lord representative Mrs. Charles Pennyworth, "that clinics that we send pestilence to will give all the credit to that phony-baloney god Allah. This stuff is coming straight from the *real* God. And it is only fair that credit is given where it is due. After all, the powder and the Glory are His! Amen."

Effects of Tragedy Hit Home
Major Event Postponed
"Due to our desire to be respectful in this difficult time, the Landover Baptist Minstrel Players' production of the light-hearted farce "Petunia, the Pentecostal Pickaninny" has been postponed for three weeks."