Salvation Evaluation Committee Expels 21 Church Officials
As a result of the subcommittee's investigation, all the children taught by these former members must be held back a grade
Read Full Public Report>


Full Blown Demon Possession Misdiagnosed as Epileptic Seizure by Unsaved Doctors
"The Holy Ghost inside me made it clear that the old coot was chock full of demons!" said Pastor Deacon Fred. Full Story>


Know Any "God is Love" Fake Christians?
Send them an automated E-Buke. Let them know their sugary, commercialized version of God is annoying to both you and Jesus!
Send an E-Buke>


White House Department of Faith
The DOF works quietly behind the scenes with President George W. Bush's closest advisers to ensure that opinions tainted by secular liberalism are weeded out before they can seduce our President's agile attention span.
Click Here to Read More>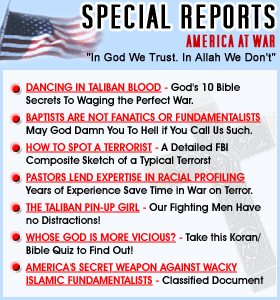 NATIONAL ACTION ALERT:

America's Most Dangerous Black Atheist Flees State of Georgia!

Christian authorities recently learned that Reginald V. Finley, Sr., (aka: "Infidel Guy," and in Christian circles, "Night Demon" and "Black Atheist") recently fled the state of Georgia and is hiding out somewhere in California. Baptist sources say the "Night Demon" was spotted near Sacramento in late January. While eluding Christian authorities, Finley still somehow manages to maintain his Godless website. He continues to broadcast his filth across America. Concerned Christians around the country are racing to visit and covertly join his website in order to gather clues to his whereabouts so he can be captured and delivered to the Landover Baptist Center for Creation Science Research before he can inflict any more mental damage upon his ignorant, unsaved audience. Click Here to Join the Hunt!>

LOCAL NEWS

Siamese Twin Commits Suicide After Sister Accepts Christ
Recently converted Baptist, Mary Martin, pleaded with her long ago saved, conjoined sister not to swallow the cyanide capsule that ended both their lives last Friday. But Sally was adamant. "As long as my sister was unsaved, I knew I would one day be separated from her, when God took me to Heaven and sent her to Hell," Sally told friends on her death bed. "When she accepted Christ, I knew we would both be going to Heaven, to spend eternity joined at the torso. By committing suicide, an unforgiveable sin, it will now be her going to Heaven and me going to Hell. And while I know Hell will be rough to handle, at least I'll no longer be attached to that bitch!"