LANDOVERBAPTIZON.COM!
The Talking Snake Theory Combat secular lies about logic and science with a book based on actual events from the Holy Bible! More>


EMERGENCY ACTION ALERT!>
Liberals Claim the Bible is Too Violent for Children!


NEWS FOR CHRISTIAN GAMERS!
Unreal Tournament 2003® Bible Based Maps & Characters!
Help Jesus defend the Temple Mount in a blood spattering Holy Death Match! Read More!>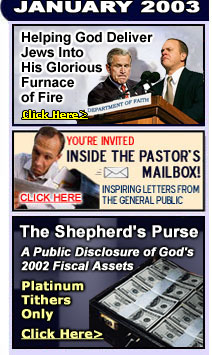 ---

---

NATIONAL NEWS

Landover Wins National Christian Truth or Tolerance Campaign by Turning Away 235% More People in 2002

"From the uttermost to the guttermost," recalls Pastor Deacon Fred, "our godly church proudly turned away so many lost, pathetic souls last year we lost count around April. I don't know if it is the failing economy we inherited from that sex maniac Bill Clinton, but we saw a huge increase this year in filthy, hungry ragamuffins pounding on our imported African ebony church doors. We've also had famous so-called dignitaries try to slip past our security, too. It just makes my blood boil when I think of all the sloppy trash, claiming to want to know Jesus and they have the effrontery to show up in our spotless sanctuary without a coat and tie."


---
We have a permanent injunction against all unsaved persons. If you are unsaved, you are not allowed within a 10-mile radius of our church, nor are you allowed on this website. Kindly leave, and be about the Devil's business, for you are not welcome here. Glory!




THE WHITE HOUSE DEPARTMENT OF FAITH
On January 20, 2001, President George W. Bush signed an executive order establishing the United States Department of Faith (DOF). Headed by Mr. Bush's and God's favorite church
Click Here To Learn More.