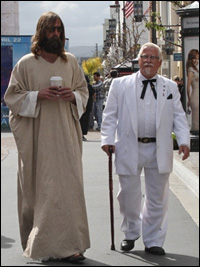 Take a Walk With Christ to Reflect on What Mattered Most to Him in the Year 2010
Landover Baptist Church's Year in Review
Newsletter Archive
What In God's Sweet Holy Name Did I Miss?
View individual articles linked below or click on a month to view the whole Newsletter for that month!
---

January 2010
HAITI: God Kicks off the New Year With a Killing Spree! (Sermon)
Alabama May Be Champ, But Colt McCoy is God's Winner (Sermon)
Life Sized Satanic Dolls Serve As Masturbation Toys For America's Youth!

February 2010
Christian Artists Record: "We Are Not of This World" to Aid Baptist Missionaries
Landover Baptist Mission Group Detained in Haiti
Traditional Valentine's Day Dating Tips for Christian Men


March 2010
Church Declares March: "National Miscarriage Mourning Month"
Spring Break Guide to Christian Abstinence
The Terrifying Truth About Saint Patrick


April 2010
Millions of Brave Catholics Begin to Flood the Pews of Baptist Churches!
Remote Facility in North Dakota Welcomes Tea Party Toddlers (Graphic Brocure)
Creation Scientist Granted Permission to Study Source of Rise in Male Masturbation

May 2010
Christian Kids Wanna Know: Will There Be Colored Folks in Heaven?
Tea Party Promotional Truck Overturns on I-65 Spilling Tons of Offensive Merchandise
Mother's Day: Why Did Jesus Hate His Mother and Command Us to Hate Ours?
Unsaved Boy Lights His Penis On Fire After Hearing Pastor Deacon Fred's Sermon

June 2010
Brother Hardwick Assumes Control of Landover Baptist Church!
WORLD CUP: Is Committing Soccer a Sin? YOU BET IT IS!
Balance of Power Shifts at Landover Baptist Church: PRESS RELEASE
YouTube Video: "Help Me! I'm in Jail For Preaching!" - Pastor Deacon Fred

JewLie 2010
GOD HATES TOYS: Official Review of Satan's New Porno Smut Film - Toy Story 3
Mrs. Deacon Fred Momentarily Breaks Through Catatonic State
Estranged Pastor, Deacon Fred, Busted Out of Jail By Angry Mob!


August 2010
Baptist Teacher Asks Ladies to Raise Their Pinky If They've Ever Masturbated
Church Secretary Kidnapped and Tortured by Wiccans!
YouTube Video: Deacon Fred - A WANTED FUGITIVE IN MANITOBA, CANADA


September 2010
Sin Posse Seizes Fugitive, Deacon Fred After Bloody Shootout Across the Border!
Christian Kids Wanna Know: Why Does My Dog Bark at President Obama?
Board of Deacons Discovers, Child Allegedly Emasculated Is Not a Eunuch After All!
Glen Beck Reunites & Reconciles Landover Baptist Pastors at Restoring Honor Rally


October 2010
Aborted Human Fetuses Needed to Make This Year's Hell House More Fun Than Ever!
YouTube Video: Pastor Deacon Fred Goes Wicca Hunting at Bubba's Farm!
Baptist Kids Halloween Art Contest Winners: IS YOUR MOMMY A WITCH?
Landover's Halloween Archive: Wiccans, Haunted Houses, Satan's Birthday & More!

November 2010
Injuns Ordered to Stay Away From Thanksgiving Festivities!
It Gets Worse: An Open Letter to All Teenage Homosexuals
Pastor Orders Women to Vote For Whomever Their Husband Tells Them to Vote For!
The Great Landover Baptist Schism of 2010: Official Timeline and Chart of Events

December 2010
LUCIFER'S TOYCHEST: Landover Baptist's Annual List of Satan's Favorite Toys!
Jesus Will Roast Unsaved Children In Hell For Celebrating His Birthday! (Sermon)
Landover Baptist's Christmas Article Archive
Landover Baptist Church's Offensive Christmas Gifts For Unsaved Trash